Business Interruption Grants Program (BIG)
The Department of Commerce and Economic Opportunity (DCEO) will launch the first round of
Business Interruption Grants (BIG) by providing $60 million to businesses experiencing losses
or business interruption as a result of COVID-19 related closures. The BIG Program is available
for up to 3,500 businesses that experienced a limited ability to operate due to COVID-19 related
closures. DCEO will begin distributing funds to qualifying businesses in early July. The total
program funding will amount to at least $540 million in grants for small businesses, $270 of
which has been set aside for childcare providers and is funded by the CARES Act.
In the first wave of grants, priority will be given to small businesses that have been heavily
restricted or completely shut down during the pandemic and are located in DIAs. Businesses
eligible for the program must have experienced extreme hardship, demonstrated by eligible
costs or losses in excess of the grant amount, since March and may continue to face depressed
revenues or closure. Businesses must also have been in operation for at least three months
prior to March 2020. An emphasis will also be placed on those businesses that are located in
areas that have experienced recent property damage due to civil unrest, exacerbating the
economic impacts of COVID-19.
Specifically, the program includes support for:
 Businesses in DIAs – $20 million for businesses that are located in a subset of DIAs that
have recently experienced significant property damage, providing 1,000 grants of
$20,000 each
 Bars and Restaurants – $20 million for bars and restaurants unable to offer outside
service, providing 1,000 grants of up to $20,000
 Barbershops and Salons – $10 million for barbershops and salons, providing 1,000
grants of $10,000 each
 Gyms and Fitness Centers – $10 million for gyms and fitness centers that have lost
significant revenue due to COVID-19, providing 500 grants of $20,000 each
WHEN TO APPLY: DCEO will make the application for BIG available on Tuesday, June 23rd.
Business Interruption Grants Program 6-22-2020
Coronavirus Aid, Relief and Economic Security (CARES) Act
More information about the CARES Act is available on Senator Durbin's website, via this link.
---
Message from Illinois Department of Commerce & Economic Opportunity

Federal and State Programs
Aid to Small Businesses
Aid to Medium Sized Businesses
Aid to Large Sized Business
Aid to All Businesses
Contact Information
General Resources: visit coronavirus.illinois.gov
PPE Equipment:
Business Assistance:
Other Resources:
Illinois Department of Commerce message
---
Attention Sparta Residents & Visitors
To Help Prevent The Spread Of COVID-19, Beginning On March 18th Access To City Facilities Will Be Limited Until Further Notice
Sparta, Illinois – In an effort to help prevent and mitigate the spread of COVID-19, beginning on March 18, 2020, access to city facilities will be limited until further notice. This is being done to help mitigate the spread of the disease to protect our residents, City Staff, and to continue to provide essential City services to the community.
During this time, City facilities will still be in operation and the City will continue to provide services. However, in-person meetings and face-to-face transactions will be restricted. We encourage everyone to utilize the City's website spartaillinois.us during the period of limited access.
In order to mitigate the impact of this closure, the City of Sparta will not be performing disconnections or shut offs for any delinquent payments on water or sewer service until further notice. Water and sewer customers are still required to pay any balances. Water and sewer bills can be paid online at spartaillinois.us, drop-off box located at City Hall or mailed in to 114 W. Jackson Street Sparta, IL 62286.
The City of Sparta is following the guideline of the Center for Disease Control, Illinois Department of Public Health, and Randolph County Health Department. These closures and restrictions are subject to change.
Please be advised that Governor JB Pritzker's Executive Order 2020-07, is mandating the closure of "all businesses in the State of Illinois that offer food or beverages for on-premises consumption." As a reminder, all bars and restaurants are mandated to have ended all dine-in service and remain closed through Monday, March 30. Restaurants may still provide drive-thru, take-out or delivery services at this time.
---
City of Sparta – Public Notice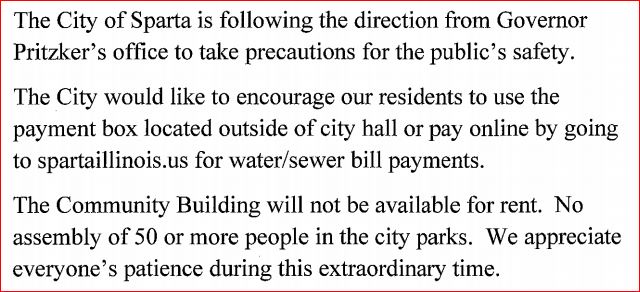 ---
State of Illinois Executive Order in Response to COVID-19
---
Illinois Department of Public Health – Social Distancing